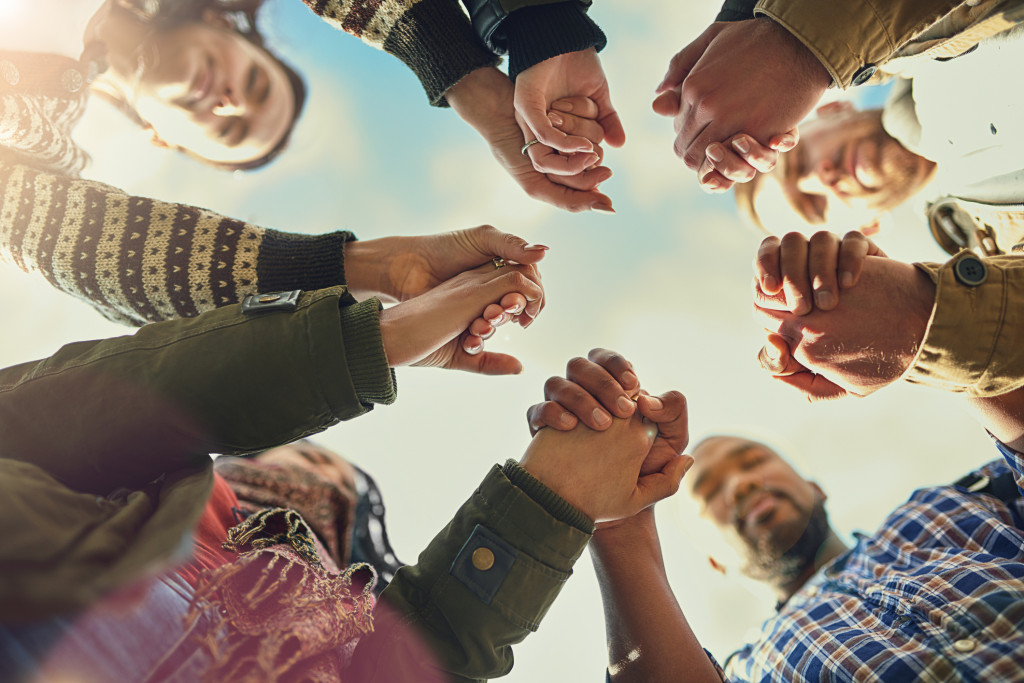 Moses' experience with the burning bush was a momentous occasion. But we would never have known about that experience except for what he did afterward – a pilgrimage that lasted another forty years.
The goal of an Emmaus 3-day journey is not just a great mountaintop experience but a revitalized and sustained spiritual relationship with Christ and the church as you live out your Fourth Day as disciples of Jesus Christ in the World.
At the conclusion of your 3-Day Journey on the Road to Emmaus, what will you do with your fourth day? How will you spend every day for the rest of your life? The three-day Emmaus experience will give you the tools to walk with the Lord every day.
The Emmaus community offers opportunities to connect with others in the Emmaus community, your local church and Fourth Day groups for mutual encouragement, guidance, and accountability on your Fourth Day.
Fourth Day Reunion Gathering
A Fourth Day Reunion Gathering is held at the conclusion of each set of walks.  It is a time for the participants and team members to gather and share what God has been doing since they took the 3-Day journey.
Fourth Day Reunion Gathering for Walk #188 & #189
Plymouth First United Methodist Church
45201 N Territorial Rd, Plymouth, MI 48170
Saturday, March 12, 2022 @ 1 pm
Fourth Day Groups…
Fourth Day Groups are a means by which participants can persevere in grace during the Fourth Day. Groups consist of two to six persons who meet regularly at a regular time for about an hour in prayer, support, and encouragement of one another to live toward the Christian ideal of a grace-filled life. These groups may include persons who have attended and Emmaus event and those who have not.
Key Features of Fourth Day Groups…
Plan a specific time and place.
Commit not only to God but to one another.
Prepare to share.
Practice your disciplines of piety, study, and action.
Uphold one another by being accountable.
Pray for one another.
Focus on service.
Be in mission together.
Be spiritual friends, one who listens more deeply than you can listen to yourself.
Men's Group
Plymouth, Michigan
Zoom Thursday mornings at 7am
Organizing to meet in person.
Contact: Brent Howlett at bdhfun@yahoo.com or 734-756-0751
Men's Group
Goodrich
Simm's Cafe
7am Saturday mornings
Contact: Jerry Mowl at 810-241-6528
Women's 4th Day Group
"Love & Light" Rochester, MI meets weekly on THURSDAY @2:00 pm
Hybrid Zoom
For location and instructions please contact Karen Fisher at kareneuf63@icloud.com or
Call or text @ 248-709-7429
Mixed Group
Davison, MI (East of Flint)
Men and women begin with a meal, prayer, and worship time and then split into separate areas.
Contact: Steve Long 248-807-5477
slong@uaw.net
4th Saturday of each month 6pm
Richfield UMC 10090 E. Coldwater Rd.,
Davison, MI 48423
Women's Group
Fenton UMC
Fenton, Michigan
Wednesdays 8-9am conference call
Contact: Nancy Culbertson at mrsculby@chartermi.net
"Good-Da Gals"
Meet 2nd and 4th Mondays
6:30-8pm
10133 Lapeer Rd
Apt. 227
Davison,  Michigan 48423
Contact: Faith White 810-922-3239 f.f.w.10506@gmail.com
Women's Group
Atherton UMC 4010 Lippincott Blvd., Burton Michigan 48519
Various Wednesdays
Please call or text contact Deb Lakies to see when meeting.
Deb Lakies 810-730-5757 or little_bit55@hotmail.com
Women's Group
Flat Rock UMC
Thursdays 6:30pm (time and location varies in summer)
Please contact Pastor Amy Triebwasser to see when and where meeting in summer.
Pastor Amy Triebwasser at 734-673-1139